Secure Storage for Businesses
A system that works…no more theft or unwanted access.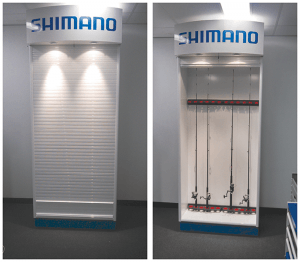 The Secure Storage System offers storage solutions to a wide range of commercial and retail markets in varying applications, providing protection for high ticket items and goods that are susceptible to theft.
Provide secure storage for stock, chemicals, records, tools and equipment for your retail shop, workshop or office.
Add additional security to existing shelves and displays in retail environments, providing needed protection for high ticket items susceptible to theft such as jewellery, electronics and liquor.
Secure tools at hardware stores and mechanics workshops or lock up expensive sporting equipment at sporting clubs.
Ensure protection against theft of computer systems and musical instruments at schools and educational institutions.
We can work with you to find the ultimate secure storage solution for your needs. Whether you are a commercial or residential builder, developer or architect looking for secure storage solutions for your clients in their homes, apartments or places of business, then you need to contact us.
We also offer secure storage solutions to shop fitters, retailers, educational institutions and sporting clubs.
Learn more about Secure Storage Systems Commercial Applications
Download and print our flyer or contact us today on 1800 290 848.